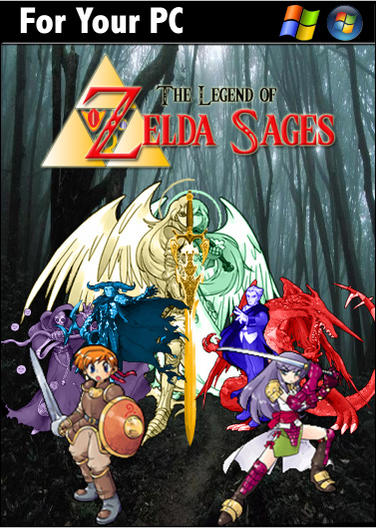 ~The land of Zelda Sages is peaceful; a land of great prosperity. Yet, an evil lurks in the shadows of this great land, an evil so powerful it threatens the very existence of Zelda Sages. Can it be this force is too strong to conquer? Just how far does this evil truly tread?…~
The Legend of Zelda Sages is a game created by Webmaster Bob based off the Zelda Sages community. It's meant to be an entertaining, fun game full of little surprises from our community. Just as well, it's full of action, mystery, and all that other awesome nonsense we love so much about games! Be sure to give it a download; you won't regret it!
 Common Installation Issues:Q: I'm getting a missing DLL file error.  HELP!
A: You likely did not read the install instructions did you :).  You need to download and install the game RTP data set from this website. 
Q: I opened the RTP installer, but there's a bunch of random Japanese characters!
A: It's OK, just keep hitting the button on the far right bottom corner until the installation is complete. 
Q: Was there a contest with this game?!
A: Yes – when the game was first released, a contest ran allowing the winner to receive a Wii Shop gift card. A winner was declared. The contest riddle was solved in the "secret" bonus world if the player completed all sidequests in the game. There is no longer a contest :).
All Members in the Game
linkxzelda
Gunslinger Girl
LC LC
teh hippie
mr.cuddles
pinkmonte
Maffia
TiggerMom
yoyolll
i am a teddy
narutokat95
pmdragon (Niko N.)
Zerg006
goldenshadow02
Zelda Rockbell
Dakare
Targelion
Capt. Zeroth
Versac
Lt_Justin
Slyguy46
animaldude
UltimaLink007
Windmage
soccerstar10022
Ides of March